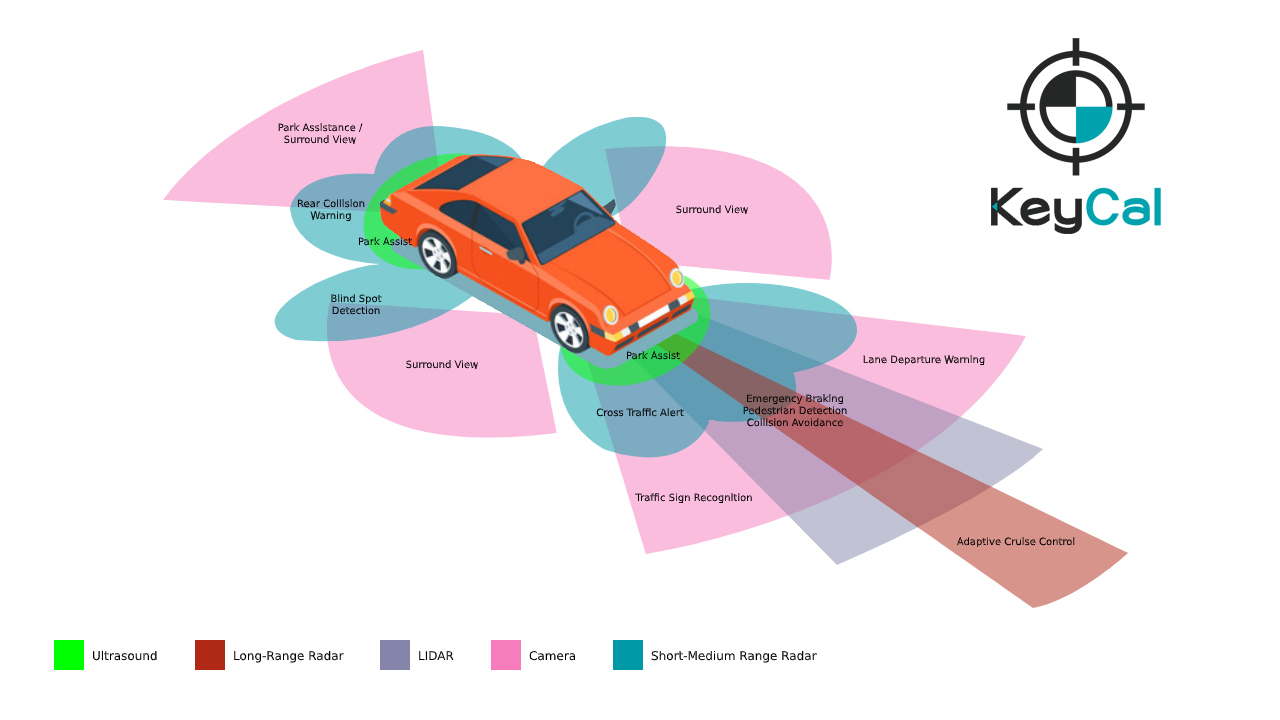 ---
We offer a mobile ADAS Calibration service utilising the Autel MaxiSys suite to perform ADAS Calibrations.
What is ADAS?
Advanced Driver Assistance Systems (ADAS) are becoming standard equipment on today's new vehicles. These systems are designed to assist drivers to prevent collisions by displaying alerts, providing camera images or by taking instantaneous control of the vehicle.
ADAS usually includes Traffic Message Channel (TMC), Intelligent Speed Adaptation (ISA), Vehicular Communication Systems and other driver assistant systems. The specific systems are as follows:
Vehicle Cab:
Lane Departure Warning System
Lane Keeping Assist
Traffic Sign/Signal Recognition
Night Vision System
Driver Status Monitor
Electric Vehicle Warning
Hill Descent Control
Front:
Parking Assist
Adaptive Front/Lighting System
Adaptive Cruise Control
Pedestrian Detection
Emergency Brake
Rear:
Reverse Image
Parking Assist
Rear Collision Warning
Side:
Surround View
Blind Spot Detection
More and more technologies have made our lives easier. From accessing various information on the internet to simply having a better driving experience, technology continues to create a more convenient and safer lifestyle for everyone.
Have you noticed the cameras on your windshield? If you have a relatively new vehicle, it is likely that your car is equipped with Advanced Driver Assistance Systems (ADAS). The camera on your windshield plays an integral role in facilitating a better driving experience.
The ADAS camera calibration works because of the camera mounted on your windshield. It uses artificial intelligence to monitor and alert you to impending dangers on the road.
Through the help of ADAS, you can drive your vehicle with the added layer of safety and caution. However, slight deviations to the camera angle can have a dramatic effect on the system's efficiency. This is why calibration is essential.
Rise of ADAS
An average Australian spends 400 hours in a car every year, making safety as the number one priority for most drivers.
With the increasingly advanced features such as lane keep assist, lane departure warning, and forward collision alert, driving has become safer. All of these features have one thing in common: they require cameras, radar, light detection, and other sensors to work together.
Your windshield may seem like an ordinary protective glass that keeps you away from dust, dirt, and flying debris on the road. However, it is much more than that.
These are some of the features used by most vehicle manufacturers today:
Lane Keep Assist (LKA): To keep the driver in the centre of its lane, LKA initiates a corrective steering response. This sends a signal to the driver whenever it inadvertently departs or changes lanes without proper signalling.
Lane Departure Warning System (LDW): Similar to LKA, this feature alerts the driver when the vehicle shifts into a different lane without the turn signal being activated. The warning is observed through a vibration.
Forward Collision Alert (FCA): Whenever you get too close to another vehicle, this feature is activated with audio/visual alert signs to avoid any risks of collision.
Collision Mitigation Braking System: This will function when the system notices an approaching collision. It will automatically apply brakes to prevent the car from crashing.
Like the FCA, it triggers a visual (or aural) warning for the driver to take extra precaution to avoid the collision.
Pedestrian Detection: It uses advanced sensors to detect human movements on the road. It can even urgently apply brakes if the driver fails to respond. This system is more effective at slower speeds which means that this is not a replacement for an attentive driver.
With these advanced features, it is imperative to carry out a correct and precise ADAS recalibration whenever your car undergoes a windshield replacement.
How do I calibrate my ADAS?
If your cars have ADAS, your windshield has special integrated sensors that allow you to channel through different safety systems efficiently. If windshields with ADAS are not properly installed, there is a higher risk that you are jeopardizing you and your passengers' safety.
With the spike in the number of vehicles that have ADAS, ADAS recalibration is required in every windshield replacement. You need to visit highly skilled technicians who are knowledgeable about the whole calibration process. This type of work requires specialised tools to ensure that your vehicle is safe to drive on the road.
There are 2 types of ADAS recalibration procedures that vary from one vehicle to another. These are:
Static Calibration
This can be done in a workshop. It requires a specific target image mounted on a fixture with a precise distance from the vehicle.
At KeyCal, our technicians will recalibrate your vehicle's camera to obtain accuracy and predetermined measures set by the vehicle manufacturer.
Dynamic Calibration
The car must be driven in a specific environment and calibration is performed with the use of a hand-held device plugged directly into the car.
To ensure that the calibration process is completed properly, parameters and guidelines by the car manufacturer must be strictly followed.
KeyCal for ADAS Calibrations
At KeyCal, we take pride in our excellent customer service, expert craftsmanship, and high-quality solutions. Whether you need an ADAS recalibration or a full system diagnostic, don't risk getting less. Call KeyCal today at 0499 164 205.